The Astor Invincible Changing Table is the first height adjustable changing table designed specifically for use in Changing Places Toilets.
The Astor Invincible has been designed to address the very unique requirements of a public toilet & changing venue with reasonably high multi-user usage and often open or semi-restricted access, and comply with regulation laid out by the Changing Places Consortium Guidelines.
The Astor Invincible is believed by many experts to be the most robust changing table available, delivering uncompromised user comfort and simple hygienic upkeep and disinfection.
Astor Bannerman, as sponsors of the Changing Places Campaign through Aveso, recognised that changing tables developed for use in a domestic setting were fundamentally flawed in design to cope with the demands of a Changing Places Toilet or many public venues. Vandalism and wear and tear bear heavily on padded surfaces, handsets, exposed wires and vulnerable parts, so the Astor Invincible was developed, component by component, to ensure that vulnerable parts were eradicated. However, doing this in a way that resulted in a changing table offering comfort and design panache was the true challenge, and a challenge that the Astor Bannerman design team rose to in abundance.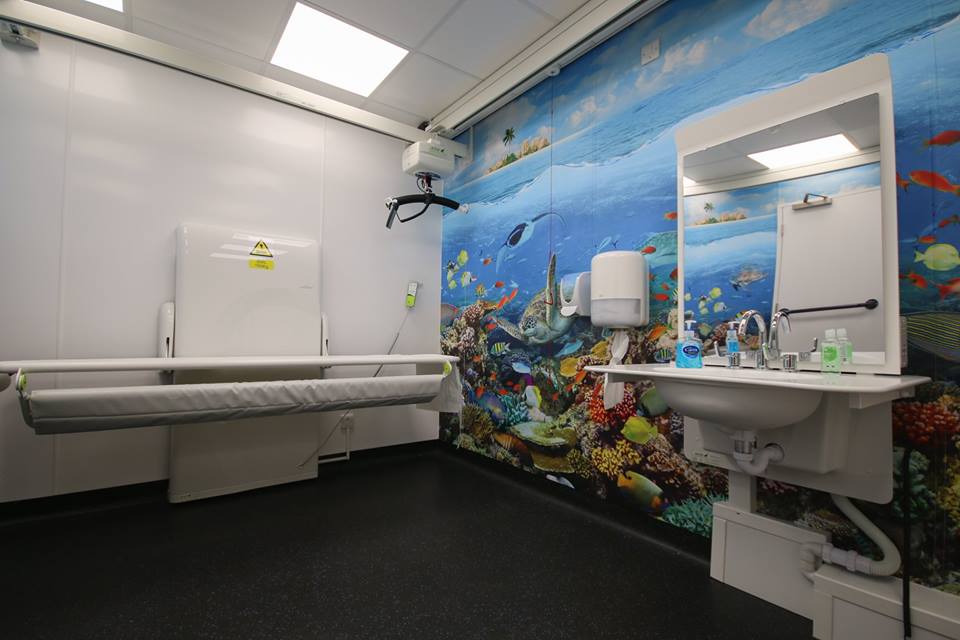 The main unique and patent pending feature of the Astor Invincible is the stretcher material – a highly cut resistant material that flexes to give a comfortable surface to lie on, and also a surface that is very easy to disinfect and clean. The stretcher is also incorporated into the frame in a manner that minimises gaps and nooks & crannies, sealed to give a hygienic and easy to clean surface.
The overall minimalistic design, whilst being very in vogue with urban industrial styling, gives a perfect robust product. There are no exposed parts, wires, controls or fittings, making this a truly tamper-proof product. The controls are integrated into the frame with two sets of simple up/down control buttons to choose from to suit the care-givers position and preference. One set is positioned on the front cover of the upright frame and one on the front of the stretcher frame, dismissing the need for a handset controller that is much more easily tampered with. The fittings are all security fixed and there are no removable parts – no requirement for an extra padded mattress for example, as the stretcher itself provides comfort in itself.
The guards have also been designed to give added flexibility and versatility to the care-giver. Instead of one standard front guard, the Astor Invincible offers two mini front guards allowing the flexibility to use both guards for full protection, or to lower one to give better access to give care whilst retaining a level of protection. This is another great example of the way that a robust design and enhanced comfort and usability can go hand in hand with insight and considered expert development.
The Astor Invincible has a height adjustment range from 300mm to 1040mm, a 227kg maximum working load with stretcher dimensions of 1800mm x 800mm.  It is IK10 tested which is the highest level of rated protection against impact.
Astor Invincible: Robust. Hygienic. Comfortable. For more details, visit https://www.astorbannerman.co.uk/product/invincible/