About Changing Places
The Changing Places toilet initiative is about having better facilities for people who are unable to use a standard toilet and making venues much more accessible – for all.
As experts and manufacturers of specialist changing, hoisting and moving and handling equipment, Astor-Bannerman support the Changing Places toilet campaign by offering expert advice, additional services and solutions to venues.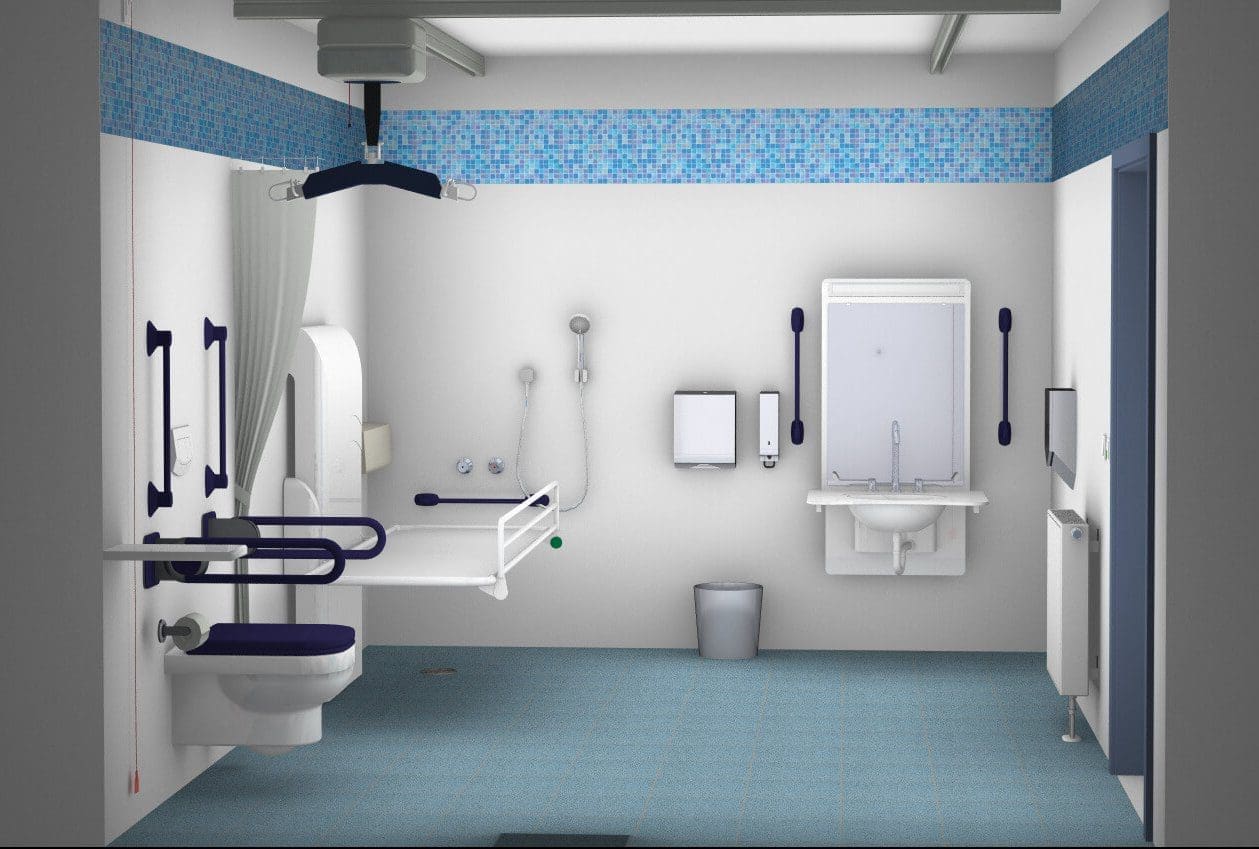 Read about the people who need Changing Places toilet & why they're so important to disabled families here
In the UK, there are 11.4million disabled people making up around 1 in 5 people or 19% of the population and over 230,000 people need personal assistance to use the toilet or change continence pads.  The people who benefit from Changing Places toilets can be broken down as follows:
130,000 older people
40,000 people with profound and multiple learning disabilities
30,000 people with cerebral palsy
13,000 people with an acquired brain injury
8,500 people with Multiple Sclerosis
8,000 people with Spin Bifida
500 people with Motor Neurone Disease
Disabled people account for 20% of the customer base of the average UK business and households with a disabled person have a combined income of £212billion after housing costs.
A lack of clean and adequate disabled toilet and changing facilities creates a barrier to participating in social and community life and reports show that 65% of families with disabled children feel isolated frequently or all of the time.
However, there are solutions to becoming more inclusive and accessible and in turn increase revenue and visitors by introducing Changing Places toilet facilities.
To talk to one of the Astor-Bannerman team about Changing Places toilets and how they can become a reality for you, or to receive a free quotation or survey click here today.
Changing Places useful guides and downloads
Below are some Changing Places toilet resources we've put together to help you understand more about these important facilities.  Whether you are from a venue investigating the concept and cost, an architect looking for the full spec, or an individual wanting to start your own local campaign, here you can find useful documents to answer your questions.
Click the links below to read about best practice design, learn about all the requirements, register your new facility and get the most out of your new accessible toilet.
What are the Changing Places requirements?
Changing Places toilets are larger than standard disabled/accessible toilets and include additional equipment and items which allow people with various and complex disabilities to the use the toilet safely and comfortably.  It is important that these features are all present in order to make sure the toilet is suitable for those who need it most.
REQUIRED CHANGING PLACES EQUIPMENT:
Ceiling track hoist for full room coverage
Adult size height adjustable changing table
Peninsular WC
Wash basin – Preferably height adjustable
Privacy Screen
Emergency alarm system
Grab rails and drop-down support rails
Hand drying equipment
Large waste bin and sanitary/medical waste disposal bin
Full length mirror
Large paper/couch roll and dispenser
THE CHANGING PLACES TOILET ENVIRONMENT:

12 sqm (3x4m) in size
Comfortable and welcoming
Outward opening door
Non-slip floor with even lighting and appropriate heating
Visually contrasting equipment
Clear equipment instructions and signage
CHANGING PLACES TOILET ROOM DESIGN

The British Standard BS 8300:2009+A1:2010 Code of Practice states that Changing Places toilets should be provided in addition to standard accessible toilets and baby changing facilities.  They should be in all new publicly accessible buildings such as transport hubs, shopping centres, concert halls, hospitals, church halls, educational facilities, residential establishments, civic centres, arenas and stadia.
Getting the design and layout of your Changing Places toilet facility is important in order to maximise the space and ensure it's as user friendly as possible.
The team at Astor-Bannerman are extremely knowledgeable on the provision of Changing Places toilets and accessible design, on hand to guide you through every step of the way, from the planning stage, right through to installation and maintenance.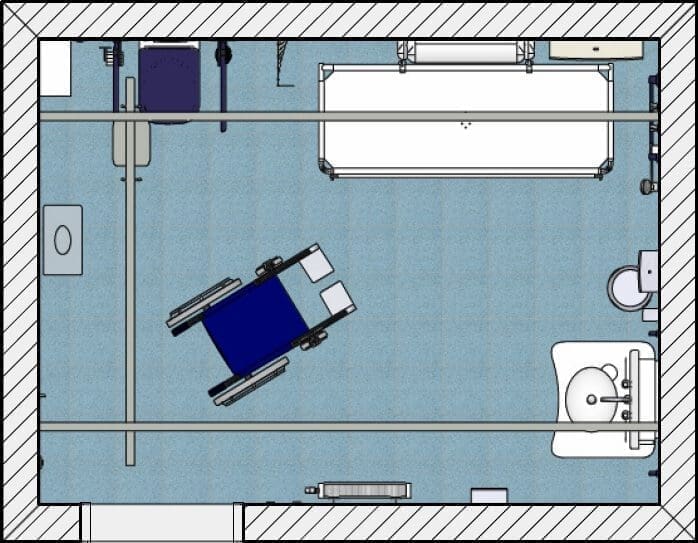 Typical Changing Places toilet design for a 3x4m (12sqm) room.
Below are just a few of the Changing Places services we offer:
QUOTATIONS
For all Changing Places projects, we always provide a detailed quotation and full break down of the specification requirements so there are no surprises.  With 25 years of experience in advising social services and the NHS on the most suitable products to meet user needs now and in the future, we have all the skills and expertise to make your Changing Places Facility one of the best.
DESIGN & SITE SURVEYS
A full and complete design service is available so we can help to plan your new Changing Places toilet.  We advise on the best location for your facility and position of the equipment which will involve site visits and planning meetings with the owners, architects and sub-contractors.  We understand how important a new Changing Places facility is.  That's why we commit to being on hand every single step of the way and ensure the BS8300:2009 requirements are met.
INSTALLATION
We are proud to have our own installation team and 25 years of experience in fitting specialist products into a wide range of different, complex and challenging environments, spanning the whole of the UK. We have also installed equipment into listed buildings, so there is always a solution and we are happy to help.
SERVICE
We offer complete service and warranty packages from 1 right up to 10 years. All servicing, and LOLER examinations as appropriate, are completed by our dedicated expert in-house service team, who will ensure that your facility and the equipment you have purchased is maintained to the very highest standard.
STAFF TRAINING
Free training and repeat training to all key members of staff once the Changing Places facility is up and running is offered and is completely free of charge.  This will give complete peace of mind whilst also enhancing the Changing Places facility experience for every single user.
REGISTRATION & SIGNAGE
Registration of your Changing Places is extremely important.  Upon completion of your new accessible toilet facility, we will visit to give everything a final check over in order to complete the registration forms on your behalf and submit to the official Changing Places National Register so you can be found when users search for local facilities and plan trips.  We also provide advice and design files for your Changing Places signage.
PROMOTION
We give advice on how best to incorporate Changing Places into your access statements and help to promote and endorse your new Changing Places facility.  This is done via various media outlets including a range of appropriate social media sites, disability discussion forums, our website and the Changing Places site.  At Astor-Bannerman, we're no stranger in getting Changing Places heard on the radio too!  In addition, your new facility will be included in any future promotional literature and will provoke media coverage.  Occasionally we have also arranged grand opening events which have greater attracted attention and raised awareness.  Please let us know if this is something you would like us to assist with.
Changing Places Testimonials
Changing Places Toilets by Astor-Bannerman
Through our continued dedication to the Changing Places toilet campaign, we've been lucky enough to build some fantastic business relationships with numerous large and high profile organisations which has resulted in new facilities being installed at:
Asda & Tesco
Welcome Break
National Trust
Premier League Football Stadia
Network Rail
Wetherspoons
Hospitals
Shopping Centres
Airports
Contact us today to see how we can help to incorporate Changing Places toilets at your venue to increase revenue and improve access for all.
CHANGING PLACES CASE STUDIES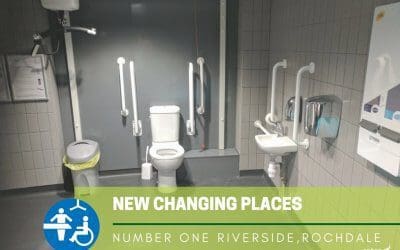 Multi-Million Pound Regeneration Sees New Changing Places In Rochdale Benefitting from unprecedented levels of investment in recent years, Rochdale town centre is currently undergoing a £250 million improvement programme. Astor-Bannerman are pleased to be committed to...
read more